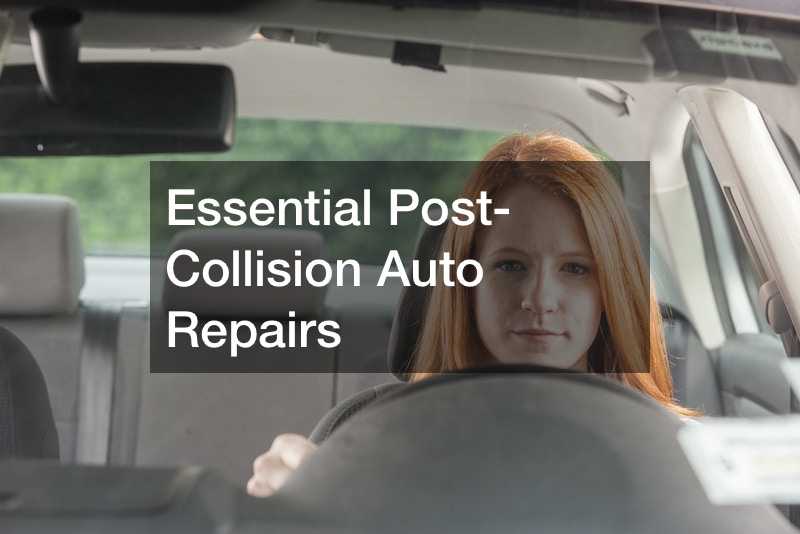 The moments following an accident, whether a personal vehicle or trucking accident, can be confusing. First, you must ensure you and your passengers are safe, and assess the damage, among other things. Among the important things you'll need to do is schedule repairs. To help you ensure you address everything, here are essential post collision auto repairs to keep in mind.
1. Auto Body Painting
When you get into an accident, even if you're lucky to escape without damage to your car's vital components, you'll likely notice a few deep scratches here and there. That's why car body painting is one of the most common post collision auto repairs. Contrary to what most people believe, it's not just done for aesthetic purposes; it also helps protect the exterior parts from weathering and further damage.
Scratches and chips significantly threaten your car's exterior. They can cause rusting, paint damage, and cracking. Repainting safeguards your car from such issues. However, remember to ensure the paint and color your autobody uses is the same as the one on the rest of the car. Otherwise, you'll need to spend more to correct the painting.
2. Paintless Dent Repair
As one of the most advanced post collision auto repairs, paintless dent repair has significantly impacted the car body industry. It's ideal if your car has a dent or several dents, but its paint is still in great shape. To perform paintless dent repair, your technician will use cutting-edge tools to tap away from the dent. After they complete the procedure, your car will be looking as good as new.
3. Window Replacement and Repair
The impact your car experiences during an accident like a collision will likely affect your windows. The damage may manifest in different shapes and sizes. It could range from an entirely missing window to a few chips and cracks.
If dealing with minor cracks on your windshield, having a professional perform windshield repair as part of your auto collision repairs will be sufficient. However, if the fissures are significant and in the driver's line of sight, getting a replacement is more appropriate since repairs aren't typically flawless. Nothing should obstruct your view when you're behind the wheel.
4. Body Filler
Body filling is often the best solution for repairing more serious automotive body issues. When you take your car to an auto body shop for this procedure, the mechanic will apply the body filler to the dented area and then smoothen it to create a smooth line across the surface. Once the filler dries fully, they'll paint over it to match the rest of the body. Your car will look like it's never had any dent once the professionals complete the job.
5. Bumper Replacement
The front and rear bumpers often sustain the greatest damage in automobile accidents, particularly collisions. If they suffer extensive damage, getting replacements is your only effective solution. Luckily, a reputable auto body shop can help you order the right bumpers and auto parts for your car make and model and perform the installation. For minor issues, repairs will do the trick.
6. Car Collision Repair
Anytime car owners get into an accident, they often dismiss the resulting damage, especially if it appears minor. Car collision repair, which may involve several fixes, is essential to improving the longevity and performance of your vehicle. Have an auto body shop inspect your car for damage and perform the necessary repairs. This type of repair involves a comprehensive approach to address all underlying issues.
7. Frame Repair and Alignment
Your car's frame will likely get damaged if you get into a collision, and it's one of the most common post collision auto repairs. Hiring a professional to fix or align the frame is key to preventing your automobile from rocking or tugging to the left or right while driving. This repair is key to preserving your car's overall health. It also helps lower your likelihood of getting into another accident.
8. Auto Detailing
Detailing isn't necessarily a type of car body repair. It won't directly improve the functionality of your car. However, it'll make you feel good about your car. The job may involve touching up the paint or polishing the headlights and taillights. Besides restoring the aesthetic appeal of your automobile, car detailing will also improve its market value.
Benefits of Post Collision Auto Repairs
Perhaps you were involved in a minor fender bender and got out with only minor damage. It could also have been a little worse, causing significant damage to your vehicle, making driving difficult or impossible. The point is accidents do happen, and when they do, it's best to hire professionals for post collision auto repairs. There are several reasons why this is the case.
1. Protects Your Vehicle from Further Damage
Driving a damaged car poses several risks, even with minor scratches or dents. While some damage may not be as obvious, it can still be deadly. For instance, driving with loose mirrors, windshield cracks, or dents in your hood can result in more severe damage and cost you more money than having the initial damage repaired by professional car services. Even worse, if the damage worsens, your car can lose control or break down while you're driving it.
2. Ensures Your Car is Safe to Drive
Making sure your automobile is safe to drive is another incentive to get post collision auto repairs from a professional. After an accident, one of the mistakes people make is attempting to repair the damage on their own. The issue with this is not all damage is visible, and you might not be aware of any concealed issues until you resume driving and something major occurs.
3. Avoid Traffic Fines
Even if you think you can still drive your car, you risk getting a penalty for operating an unsafe vehicle. Most police officers aren't kind to people driving scuffed-up vehicles and will write them a ticket even if it doesn't pose any issues when driving. Have your car fixed before attempting to drive it again to avoid being on the wrong side of the law.
4. Restore Your Car's Aesthetic
An accident does not always damage the car's operational functions. In some cases, you may escape with a few dents or scratches. Such issues will significantly take away from your vehicle's visual appeal and lower its value. A professional mechanic will restore your car's aesthetic appeal as part of your post collision auto repairs. They can also help you navigate your car window tinting options.
5. Boost the Value of Your Car for Trade-In or Resale
Your car will be in better shape and most likely be worth more after expert repairs. Trying to sell your automobile or trade it in for a new, dependable, and more enjoyable one can help you earn more money. Of course, if you decide to keep the vehicle, the upgraded features will be a big plus. Regardless of your situation, an auto body shop will ensure it looks great and is safe to drive again.
6. Peace of Mind
After an accident, you probably feel worried and stressed about various issues. You may wonder how you'll start your search for auto accident attorneys or if your personal insurance will cover your injuries. However, not knowing if your car is safe to drive or if it'll stop working as soon as you start the engine may be one of the largest causes of your worries. You won't have to deal with these concerns when you take your automobile in for repairs, since you'll know that experts have conducted an inspection and made the necessary repairs to make it safe to be on the road again.
7. Professional Repairs Are In Your Car's Best Interest
Having a trustworthy repair facility handle the work on your car is in your best interest. Whether you need significant repairs or minor scratch fixes, please take it to a seasoned auto body restoration service. Doing this is the only way of guaranteeing you address damages as soon as possible and more effectively than you could.
What To Look for After Collision Repair
Once professionals perform all the necessary repairs on your car and it's ready for pickup, you'll likely want to drive away as soon as possible and leave the ordeal behind you. But how can you be certain that your automobile is ready to get back on the road? Inspecting it before leaving the shop is in your best interest. Even though the chances of finding an issue are low, it's easier to deal with it while your automobile is still in the shop for repairs. There are a few things you should be looking for.
If feasible, pick up your automobile during the day and take it outside to make it easier to spot imperfections or other issues. A trustworthy shop will ensure the places they've fixed are clean because they have nothing to cover up. Inspect your automobile both up close and from a distance. Occasionally, a change in perspective can make flaws or damage more obvious.
Look at the paint. Does the texture and color match? Even if the best paint shops don't always manage to match the factory paint, the new paint should blend in with no discernible changes. Ensure there isn't any paint overspray on any surfaces that shouldn't have paint, as well.
Inspect the panel gaps to verify their level. Open and close the hood, trunk, doors, or tailgate. You shouldn't experience any difficulty.
Verify the windows are also working if the doors were part of the post collision auto repairs. How do the fenders' edges and the edges where the tires meet look? If the frame and the body are properly aligned, they should be lined up side by side.
Take it for a Test Drive
Be sure to test drive your automobile before leaving the repair shop. Check the dashboard for any warning lights after starting the engine. There shouldn't be any error codes if everything is working as it should.
Next, turn your car to face a wall and turn on your headlights. Any problems with headlight alignment should be obvious. Ensure your hazards, blinkers, and brake lights are in optimal functioning order.
As you drive, consider how the car feels. Do you hear any strange banging sounds or vibrations? Does the steering behave the same as it did before the collision? What about tracking? When you stop, does your automobile stay straight or seem to pull to one side? Monitor the engine temperature while you drive since unattended front-end damage might result in coolant leaks or affect the airflow to the radiator, affecting its ability to remove heat from the coolant.
Other Considerations
You should also look out for clipping. You don't want to see something like this in your car! A repair technique known as 'clipping' entails welding an entire portion from one vehicle onto another. While it was common decades ago, it's not ideal for modern automobiles constructed of lightweight, high-strength materials. This is because welding a new piece to a new vehicle may jeopardize your car's structural integrity.
Did you get new airbags? Sadly, there have been isolated instances of dishonest stores billing insurance companies for new bags just to resell them. If the middle of your steering wheel column feels hollow when you pound on it or the airbag light is on, don't take your car out of the shop yet.
Some insurance providers could pressure car body shops to use cheaper aftermarket or secondhand components from an auto junk yard. However, these might not conform to the original manufacturer's requirements or even go against the manufacturer's advice. Request a receipt or invoice from the business for the components used on your vehicle. If you find yourself in another accident, the auto parts used will significantly impact the extent of the damage.
Once you've completed a thorough inspection, immediately inform the business if you're unhappy with the post collision auto repairs. A reputable company should correct any issues at no extra cost. Of course, picking the right shop is the greatest way to avoid problems in the first place.
Besides looking for a motor vehicle accident attorney to help you determine the best way forward, you'll need to schedule repairs to restore your car to its pre-accident condition. Doing this is key to ensuring your safety and that of your passengers and other road users. Use this guide for essential post collision auto repairs.