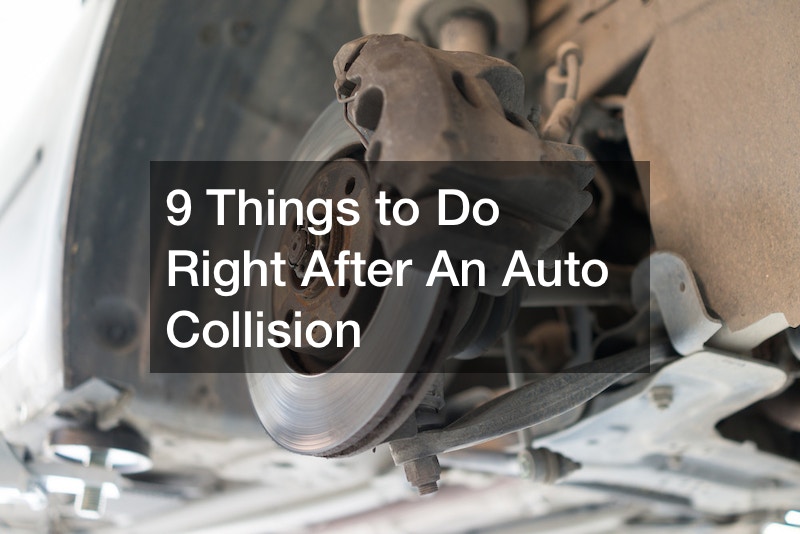 No driver plans on getting in a car accident, yet it happens all too often. According to Driver Knowledge, over six million crashes are reported in the U.S. annually. Therefore, by these statistics, you can easily find yourself in an accident, leaving you confused and wondering what to do next. Fortunately, below are some top things you can do after an auto collision to successfully navigate the aftermath of an accident, and with as few hassles as possible.
1. Document the Accident
One of the top things you can do after an auto collision is to document the scene of the accident. That's because detailed documents can help to prove who's at fault during the crash, thus saving you from liability. In addition, documents are vital evidence when filing an insurance claim; thus, they can help fast-track the settlement process.
One of the top ways to document an accident is to collect photographic or video evidence of the scene. Of course, you should ensure you capture all visible physical damage to your car. In addition, you can take pictures and videos of other vehicles or items (for example, trees, lampposts, walls, etc.) involved in the collision.
On top of taking pictures and videos, you should exchange information with all involved parties. This can include the name, address, vehicle registration number, and insurance information of the other driver(s). Of course, when exchanging information with another driver, you mustn't admit fault or even discuss the accident. Instead, you should let the professionals (police and insurance companies) determine who's at fault.
Lastly, you should collect information about any bystanders who witnessed the crash, as they can help to support your version of events and insurance claim. Of course, once the police arrive at the scene, they'll likely collect the statements of these bystanders. However, you can still ask them to write their statements or even record a video explanation, thus providing you with a vital piece of evidence that you can hold onto.
2. Call the Police
After an auto collision, you might want to downplay the severity of the crash. Or you might be in a hurry to get back on the road and resume your journey. However, you must alert a police officer immediately after the crash and wait for them to respond.
One of the top reasons to call the police after a car crash is that leaving the scene or failing to report can be a criminal offense. This is especially true in a severe accident involving other drivers and if someone has been killed or injured or property has been damaged. In addition, some states in the U.S. might institute additional penalties for failing to report a crash. For example, according to the California Legislative Information, your driving privileges can be suspended if you fail or refuse to report a car accident.
Lastly, calling the police also gives you access to a police report that you can use to support your version of events when submitting an insurance claim. Unfortunately, if you fail to report the accident, you'll have difficulty convincing the insurance company that you were in a crash, let alone that you weren't at fault. As a result, you will likely have to pay for collision repair expenses and medical bills out of your pocket.
3. Have Your Car Towed
Calling a tow truck is another top thing to do after an auto collision. Of course, it's given that you'll need to have your car towed after a major crash that renders it undrivable. However, it's still advisable to call a tow truck even in minor collisions with little to no visible damage to your car.
One of the top reasons for calling a tow truck is that even the slightest damage can make driving your car unsafe. For example, damaged headlights, brake lights, and turn signals can increase your risk of getting into another crash. In addition, your vehicle might have hidden issues, for example, leaking fluids, steering problems, structural damage, and others that might not present until it's too late. Therefore, having your car towed to an auto mechanic shop for repairs is much safer.
Besides the safety concerns, driving a car after a collision and without getting the necessary auto repairs can lead to further damage. As a result, this can significantly (and unnecessarily) increase the cost of repairs. In addition, such an action can be viewed as negligence by your insurance company, leading to the rejection of your claim. In addition, any incidents that occur when driving your damaged vehicle are unlikely to be covered by your insurance plan.
4. Get Your Vehicle Inspected
Before you begin repairs, you need to have your car inspected by a qualified mechanic. Of course, in most cases, the insurance company or the authorities might order an inspection after an auto collision, especially if you drive a commercial car like a semi truck. Nonetheless, requesting an independent vehicle inspection by a mechanic you trust can still be very beneficial.
One of the top benefits of an after-accident inspection is that it helps to reveal the full extent of the damage to your car, including any hidden issues. This helps ensure you get all the necessary auto services, such as suspension and transmission repair, which you might have skipped without an inspection. And as a result, you'll be guaranteed that your car is safe to drive once you're back on the road.
Paying for a vehicle inspection after a crash can also provide you with additional evidence to support your insurance claim or any other legal processes that arise. For example, you can use the inspection report (which reveals the full extent of your car's damage) to negotiate a fair settlement with your insurance company. In addition, you can use the report as supporting evidence to prove that no malfunction in your car could have caused the accident, thus clearing you of fault and liability.
5. Get an Estimate of the Repair Costs
After an auto collision, your insurance company may send an adjuster to review your claim and make an estimate of payment to be made. Unfortunately, in some cases, the offer made by an adjuster might be inaccurate or deliberately low. Therefore, to avoid this, you should get your independent repair estimate.
Getting a repair estimate provides you with more supporting evidence you can use to support your insurance claim. For example, in the case of a low-ball offer, you can use the estimate (and your inspection report) to negotiate a higher settlement with your insurance company. In addition, in worst cases, you can provide the estimate to your lawyer, who can then use it to ensure you're fairly compensated.
You should only use qualified and reliable auto repair stores when getting a repair estimate. For example, if you're researching trailer repairs, you should only receive an estimate from a well-established trailer collision repair shop. This will ensure you receive an accurate estimate that will guarantee quality repairs to your vehicle. You can even get around three estimates from independent repair shops, further bolstering your position when filing your insurance claim.
6. Submit an Insurance Claim
Calling your insurance company is another one of the most essential things to do after an auto collision. And to be safe, you should contact your insurance company even after a minor accident. That's because car and medical issues can pop up later, landing you in a very tricky position if you have not contacted your insurance provider.
When filing an insurance claim, you should call your agent and inform them of the accident on the day it occurs or as soon as possible in case of an injury. In addition, you should avoid discussing things like fault or other unnecessary details unrelated to the accident. Instead, you should tell your version of the story (without any lies) and offer any supporting documents like the police reports, witness statements, and photos & videos of the scene.
Your insurance company will then review your claim and make a payment depending on your auto insurance plan and the extent of your car's damage. Of course, as noted above, some companies might not offer a fair offer, especially in the first instance. However, you can increase your chances of a fair settlement with a few tips, like filing the claim on time, cooperating fully with insurance adjusters, providing accurate information, and producing supporting evidence. In addition, you can hire a car accident attorney to represent your interests when negotiating with the insurance company.
7. Complete All the Repairs
After having your car inspected, obtaining an estimate, and submitting your claim, you can move on to making the necessary repairs. Making repairs after an auto collision is important as it helps to restore your car's condition, allowing you to get back on the road. In addition, repairs make your car safer, thus preventing more accidents while also ensuring that the damage sustained doesn't worsen over time.
You might need to make several repairs to your vehicle after an auto collision. Of course, with most crashes, you'll need to repair the paint job and fix dents to the body panel. Also, depending on the collision point, you might need repairs for broken headlights, taillights, turn signals, bumper, fender, and door locks. On top of that, many car accidents result in broken windscreens and windows, so you might also need to research window replacement companies that can fix the damage.
Tire damage is another common problem you might have to fix after a crash; tires are easily damaged by cuts, impacts, punctures, and blowouts during a crash. In addition, an auto collision can cause wheel misalignment or damage, thus requiring you to pay for car wheel repair. Other repairs include fixing the brakes, the AC, the engine, the suspension, the transmission, the automotive frame, etc.
8. Update Your Auto Insurance Coverage
After an auto collision, you might experience problems with the insurance claims process, either due to an unreliable insurance company or inadequate coverage. Therefore, after dealing with your repairs, consider updating your auto insurance policy or, even better, switching to another insurance provider. This will help provide you with maximum cover in future crashes.
When switching to a new auto insurance provider, you can find several tips to help you secure an amazing cover for your vehicle. For example, you can ask for several insurance quotes from the top insurance companies and compare them to find the best prices and packages. In addition, according to Consumer Reports, you can save money through tips like having good credit, selecting the right deductibles, and purchasing an annual policy. You can even ask your new insurance company for discounts due to your good driving, safety, anti-theft, and insurance record.
Of course, insurance premiums aside, you also want to select a good plan that offers adequate coverage for your vehicle. Therefore, you should invest in essential auto insurance covers like liability, comprehensive, collision, personal injury, and medical payment coverage. These packages guarantee you're properly covered for vehicular damage, injuries, or liabilities incurred in a crash. Nonetheless, you can still purchase additional covers like uninsured and underinsured motorists, property, weather, theft, vandalism, tree damage, etc.
9. Keep Up With Your Car's Maintenance
Lack of proper maintenance is one of the leading causes of car crashes. On top of that, poor maintenance can lead to a rejection of your insurance claim and even cause you to be liable for an accident. Therefore, after an auto collision, you should invest in the proper maintenance of your car, thus reducing your risk of getting into more accidents in the future.
You can invest in several car maintenance to protect your car and yourself while on the road. For example, you can conduct routine checks on your brakes, transmission fluid levels, tire pressure, coolant levels, headlights, turn signals, wiper blades, and dashboard warning lights. In addition, you should regularly top up and replace your car's fluids (coolant, transmission fluid, and engine oil) and replace worn-out tires.
Lastly, you should strictly maintain your car's recommended maintenance schedule by taking it to a reliable repair shop for servicing. These routine maintenance visits are vital as they reveal any hidden issues with your vehicle. You can then fix them on time before they become costly repairs, thus saving you time and money. Routine maintenance is also an excellent way of extending the lifespan of your vehicle.
A car crash can affect you regardless of how well-prepared, safe, and careful you're when driving. In addition, it can be very traumatizing and destabilizing, leaving you feeling out of your depth. Fortunately, the above are top ideas of things you can do after an auto collision to ensure that you're ready to get back on the road.